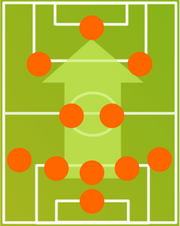 The 5-4-1 is the most defensive tactics. It is best to get and not many goals. You usually play 0-0 against other 5-4-1. This tactic is designed to counter-attack. However, the counter only arise after losing possession of an attacker, so this tactic also has problems against opponents who play without attackers. 
When these tactics make the Counter Aces (AC) specialists the most sense. But of course you can just as well play with Crossing Specialists and Header Specialists. 
Advantages:
usually little bit Goals against
effective against 2-3 striker example 4-3-3 and 4-4-2
Disadvantages:
usually shoots few goals
rely on counter
problems against 3-4-3 that allows no counter and tactics without or against an attacker
Use of specialists:
Attacker:
As an attacker, the AC and the the HE can be used.
Offensive Midfield: 
Here, CR, AC or P offer.
Defence Midfield: 
Who plays with attacker AC, can here a DM P use, otherwise set a DM HE.
Wing Back:
Here are 2 FL or 2 MA possible. Depending on whether you want to have more defensive or offensive.
Centre Back:
The KO has only been on the central position of its effect, there should also play an essential, as it can fend headed goals. The other two IV positions can be occupied by MA.
reference 
The use of the specialists listed here is no guarantee of success! It will be shown that specialists on which Positon are useful and also partly as an example or approach used for your own tests. To test you can not miss as aspiring managers.