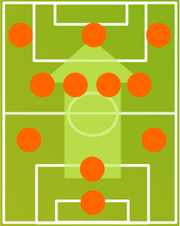 The 3-4-3 is a defensive, control focussed tactics, which allows a lot of possession. It is best to play against 5-4-1. The defense, however, is very full of holes and thus the tactics are set back very unstable, which can occasionally lead to many goals against. The special feature here is that these tactics hardly caused counterattack.
Advantages:
effective against defensive tactics such as 5-4-1 and 4-2-3-1, especially in conjunction with the Coach-Action long-shots 
itself with 3 strikers secure against counter-
very variable lineups possible 
much possession 
by 3 attackers - high shooting power
Disadvantages:
holey defence - problems against 4-3-3, 4-4-2 and 4-2-4
Use of specialists:
Attacker:
As a central attacker, the Header Specialist (HE) can be used. On the outside attacker positions can be tested versatile. Attacker / OM Crossing Specialist (CR) and attacker Counter-Ace (AC) offer will be spoiled for choice and it requires tactical skill.
Midfield:
This tactic can be played with 4 DM or 4 OM, so here also this tactic is very versatile. Making the HE only on the two central positions per head and CR cross only on the outer positions. The Playmaker (P) is also possible, when an CA plays as an attacker.
Wing Back:
Here are two Man-to-Man () is probably the most effective to stabilize the holey defense something.
Naturally, CR are possible, but what makes the save still shaky.
Centre Back:
The HE should play here, since he can fend headed goals.
reference 
The use of the specialists listed here is no guarantee of success! It will be shown that specialists on which Positon are useful and also partly as an example or approach used for your own tests. To test you can not miss as aspiring managers.